Since the early 1980s, Montréal's Mile End neighbourhood has seen its streets transformed by a wave after wave of culture and good taste. Here, local writers, artists, musicians, and filmmakers cohabitate with curious visitors at the art galleries, libraries, and coffee shops in the area.
The S.W. Welch secondhand bookstore, located at 225 Rue Saint-Viateur West, is one of these iconic cultural spaces, which opened back in the '80s. It has been witness to decades worth of casual discussions on literature, culture, and life in general between community members. Now, forced by the unstoppable gentrification in the area—and an unaffordable increase in rent—the lifetime of this independent store may be coming to an end.
Owner, Stephen Welch, plans to retire next year after a grace period negotiated with the landlord but, for those who delight in spending time chatting with him at the store, we may have some good news: there is a possibility that Welch won't be disappearing for good!
SciGlam: After almost four decades running this bookstore, you still maintain that being a bookseller is "the greatest job in the world." What about this profession satisfies you so much?
Stephen Welch: Well, the business is run by my intellectual self… there's no one telling me to do this or to do that. It's sort of a process of making money out of nothing; knowing what to buy, how to price it, and how to sell it (or who is interested in it) is an intellectual process.
I also love books, so I like buying books. Whenever I buy a bunch of books, they are all mine, and I can go through and keep any of them I want. It's wonderful!
Once, I was called to go up north to some cottage and they had all these books in the basement… and they were all Charles Dickens first editions!
Where do you collect all these books from? How do they arrive at the store?
Before, I used to go to peoples' houses when they were moving, but I'm older now—I'm not as active. These days people just bring me books when they are moving, downsizing, or cleaning up.
There are also book pickers who go around to the various bookstores they find and bring them here. When I was a young man, I would go to all the book sales and places they were selling books, like The Salvation Army, myself, but I don't care anymore. I let [the book pickers] do it. I pay a little more for the books so hopefully they can make a living doing it.
When I opened this bookstore there was nothing like Renaissance (a Quebec-based non-profit organisation founded in 1994). Renaissance has stores with books from actual bookstores that are donated when they aren't sold, but before it wasn't this easy to find secondhand books. When I was very young there weren't even yard sales, we used to go to rummage sales in church basements.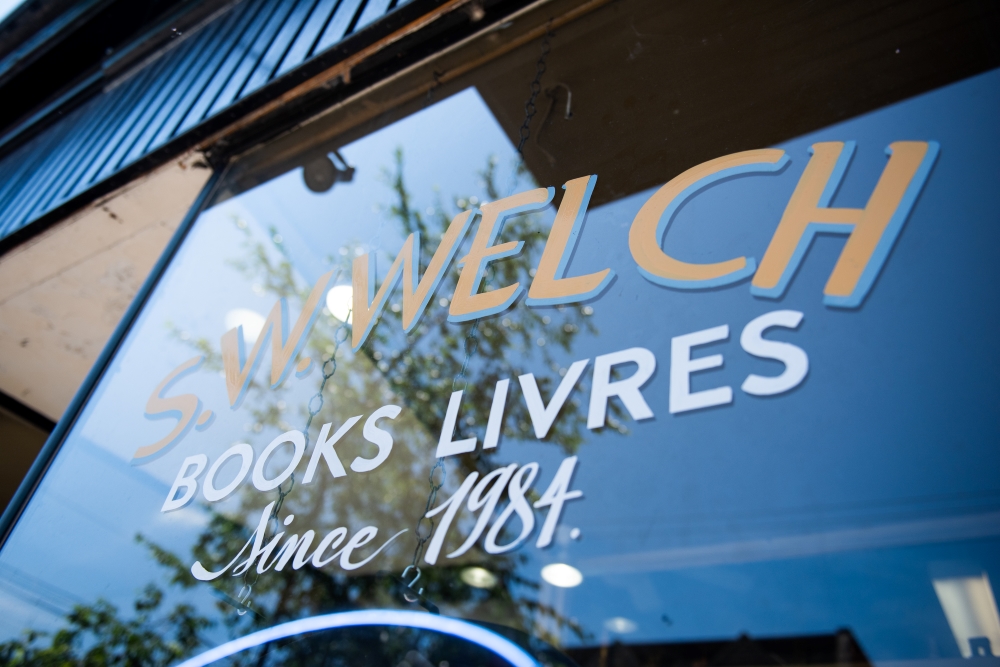 How is it that you became a bookseller?
The story is that I was going to art school in Halifax when a new bookstore opened in the area. I became friend with this guy, and we used to go together on book buys (if you want to call it that). One day, he said to me: "Steve, you should become a bookseller, you have a good eye!" (Which is important!) I think I do have a good eye in terms of what a good book is and what a bad book is. Certainly, when you're experienced, you get to know what the proper edition is and all that kind of stuff (if we are talking about more collectible book…)
I can remember going to my first antiquarian book fair—where there were all these bookdealers who were more senior than I was and who knew more than I did. There was this antiques dealer who had a booth and [the dealers] keep buying books from him—and, you know, not for 1$—so I asked another dealer: "How does this guy have all these great books?" And he said: "It's not that he has great books, he just has books that are unusual on subject areas we know, but have never seen before."
That's one thing, when you see a book and you go: "hmm." There is no price for those kinds of books.
What are the most interesting books you've ever received? Have you ever received a first edition of an iconic book?
Yes, sure, all the time! This is sort of the fun of it…
Once, I was called to go up north to some cottage and they had all these books in the basement… and they were all Charles Dickens first editions!
Wow! And what did you do with them?
I bought them.
Did you keep them for yourself?
No, I sold them; I don't keep many books. I bought all the Dickens first editions; I didn't pay a huge amount of money for them, but I had them and I could make money from them if I knew what I had. So, really, the most valuable part of that purchase was all the research I did into Dickens' first editions.
On another occasion, I bought a small (but wonderful) collection of beautifully bound books. They were really good books—done by the top book binders in the world—and they were the most beautiful things you've ever seen in your life. So, now, when I see a book's binding, I know what the levels are.
For a bookdealer, at least for me, [it is all about buying] something like that. You know… there's nowhere you can go study these kinds of things.

What were the most important books in your early life?
I was reading Dickens when I was ten or eleven because my grandmother would send me one of his books for every birthday. And I enjoyed them (or most of them), but one day I was in a library and I picked up a book called A Princess of Mars by Edgar Rice Burroughs (a science fiction author) and that was the end of Dickens; I started reading science fiction—I still read science fiction—but I am a very curious person, so I read a lot of very curious kinds of books.
You know, there are two categories of books: there are books you read to remember and there are books you read to forget. When you are in the world of the book, in the mind of the author, you are somewhere else, you are forgetting your worries or whoever you are. And I read a lot of books like that: detective stories, science fiction, sword and sorcery books…
When I was twelve or thirteen, I read The Lord of the Rings. Our church had a library and you could go and take books out. I read about three quarters of the way through the first volume, and I thought it was kind of boring, so I put it down. It was in my room for months, but when exam time was coming up and I didn't want to study, I looked around for something I hadn't read and I thought: "oh, I'll try this one again!" I read through the whole of The Fellowship of the Ring and I loved it! Then I realized that there were two more volumes. I remember jumping on my bike and bicycling around to all the nearest places that sold books and finding the other two volumes… and devouring them! I think I read that book eight or nine times that year.
When you are in the world of the book, in the mind of the author, you are somewhere else, you are forgetting your worries or whoever you are.
Do booksellers still play the same role, helping readers discover new authors in this technological era?
I consider myself a very dedicated person, but I do find it difficult to recommend books to people; to me it is a very personal thing. When people think of my bookstore as "I am looking for a copy of this, maybe they have it…" it's the wrong kind of way of think about it. I'm trying to have a well curated store with little treasures everywhere; books that you may not have known existed. I buy a bunch of books and I go: "oh, wow, what's this?" And that, to me, is the pleasure of it. It is finding something you didn't know about or have never read before…

For me, it's been 40 years of buying and selling books, knowing what's good, who the authors are, and bringing them here and presenting them. Most of my good customers know that; so they come to this physical store. Online it's difficult to browse. Sadly, a lot of money goes into the design of the book (even versus how much the author is paid for writing it). So, a lot of books just sell because they look a certain way. Books with a sexy cover will sell very quickly. If you go to Renaissance—where all books are donated—they have what I call "cookie cutter" books.
You plan to retire next year. What are you going to do? What will happen to all these books?
It's a good question, I don't know; it is sort of scaring me. For the books it's fine, but you know… I also enjoy this. When I am buying or selling books, I like talking to the other person: "why are you selling these books? Where are you moving?" It's a very social thing I have going on—and I won't be getting that anymore; I'll be sitting at home with my wife.

[The good thing is] someone might buy the business, keep the name (which is a good idea) and keep me on as an unpaid consultant. That would be great! I said: "OK, you just get me a big chair and I'll go and buy some books for you (or fall asleep if I want to.)" This way my cronies can come in and talk to me whenever— [it would be like] going to a park with all your buddies and just chatting away, but we'll see…
My wife has the same problem, she is also retiring at the end of June, and she doesn't know what she's going to do either. She is the kind of person that has to be doing something—I don't necessarily need to be doing anything.
We have a home by the ocean in New Brunswick that I inherited from my grandparents. It's a place where you can look out and see the whole sky—you know what the day is going to be like—it's a more human way of living. Right now, there's a lot of solar activity so I know there are northern lights somewhere—it's hard to find the space for northern lights in the city—but in New Brunswick it's like: "Wow!"
Now we can go for longer than we normally do, but, unfortunately, I can't really get in my boat anymore. It's a real problem!
When you think of your life, you think: "when I retire, I'll go on the boat, I will do this, I will do that…" but then you get old, rickety, and ill. You don't really consider the physical restrictions that age brings upon everyone.
Northern lights! I wish I could see them at least once in my life.
I have seen them, they're great! When I was a young man, before anything, I went to the High Arctic for three months. I worked in a ship; I was a photographer then—I was supposed to take pictures—but they never accepted that taking photographs was an actual job, so I was loading barges and driving little tugboats… We went to the furthermost Inuit settlement, which is Grise Fiord on Ellesmere Island (a settlement forced upon the Inuits, they didn't want to live there.) It was a pretty adventure story; we would stack in the ice for eleven days on that ship… [the story] just goes on and on… It was fantastic!
If you could ask a scientist of any background a question, what would it be?
Do scientists believe in God?
Answer by biologist and bestselling author Jerry Coyne, professor emeritus in the Department of Ecology and Evolution at the University of Chicago