This article is a translation of the original interview
In 2014, Irene Magro and Ana Cardona decided to become shoemakers. Since then, the Madrid-based brand, Magro Cardona, has been positioned among the highest artisanal shoe designs made in Spain. A success that first took root on an international level with their online store in countries like Japan or USA, although it has been growing gradually in Spain. This year, they launched their new fall-winter collection in a new space in Madrid's most hipster neighborhood, Malasaña, at 19 Divino Pastor Street.
Their secret: creativity, exquisite style, comfort, and most of all, lots of Rock and Roll. Big artists such as Bob Dylan, Tom Waits, and Joe Strummer have inspired some of their best-selling models.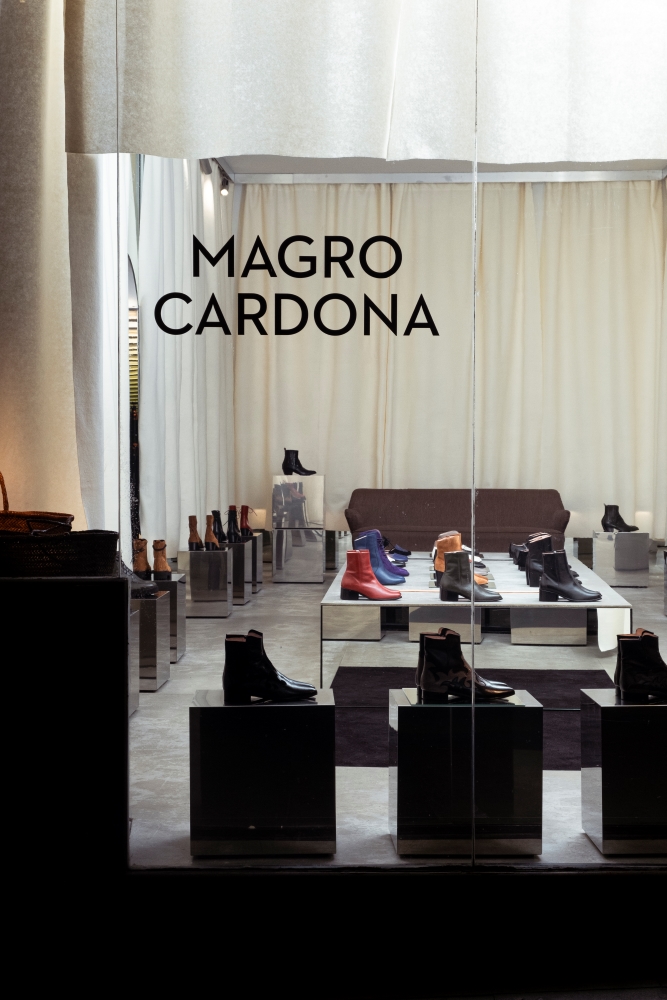 SciGlam: Being a shoemaker is not on the list of common dream jobs for kids. As children, what did you want to be when you grew up?
M: I wanted to be a war correspondent, which was what I saw at home. I ended up becoming a writer in an advertising agency and then, casually, I went into fashion production. Of course, I never imagined having my own brand or being a businesswoman.

C: I always wanted to work in something related to art or fashion. In fact, I studied fashion design in Madrid.

How did the idea of being shoemakers come about?
M & C: We met working at the Prada store in Madrid. We put together our concerns and visions and in 2014 we founded Magro Cardona. It started with the necessities of having something of our own and being able to manage our own time. And in fact, shoes are probably the most magical and interesting element in all the different branches of fashion.

One of your brand's strongest points is its daring designs—shoes designed for men converted into shoes for women, chimerical colors, infinite laces… you do everything!
C: We've always liked mixing concepts to achieve something new and innovative. It's like making fusion cuisine!

On several occasions we have heard you say that Rock and Roll has been an inspiration for your designs. What is the song that comes to your minds the most in 2022?
M: This summer I discovered a Texan group named Khruangbin. Their collaboration with Leon Bridges has been the most played album in my studio.
C: I have been listening—and dancing—to salsa non-stop!

Besides music, what have you been taking inspiration from for the new designs in the fall-winter collection?
C: It's very difficult to talk about one concrete source of inspiration. We are not a brand that launches collections based on one theme. Our essence is reflected in each of our designs. Yes, art, music, and cinema are important sources; however, sometimes it is a woman walking on the street, a trip, or a country that inspires us. In this way we create something organic that we develop over several months.
M: The Keith Richards documentary—his elegance and authenticity are so inspiring!

A remarkable difference between big Spanish shoe companies that outsource their labor and your brand is that you remain faithful to artisanal products manufactured in Spain. What have been the challenges of working with an artisanal product in a world of fast-fashion?
M & C: This project emerged from personal necessity—and for a new awareness—that looks to bring back local, artisanal, genuine, and authentic products. Not only for sustainability but also for an identity of our own. Without question, it is a way to make things better than in the 90s, a way to imagine a better future. It is impossible to do what we do elsewhere, thousands of kilometres away and cheaper. The environmental and human cost would be different. Don't you think?
This project emerged from personal necessity—and for a new awareness—that looks to bring back local, artisanal, genuine, and authentic products. Not only for sustainability but also for an identity of our own.
All of this has positioned us in another dimension of the industry; our clients can see it and smell it as soon as they touch our shoes. There are other people that question the price tag and we have to explain that it is an honest price on all levels. We see a lot of advantages working like this. The biggest challenge is having to keep a small production every time.

Singer-songwriter Régine Chassagne, the leader of the Montreal Indie Rock band Arcade Fire, (that you are fans of) passed by your store and got two pairs of your Kika model. Which other women that haven't yet visited the store would you like to see wearing Magro Cardona?
C: Zoe Kravitz, Jessica Chastain…
M: Oh! There are so many inspiring known and unknown women that it's hard to think of one. Naomi Watts for sure. I also have to say that all the women that come to our store in Madrid have something in common, and that is something we detect as: "a Magro Cardona girl energy." (laughs)

If you could ask a scientist of any background a question, what would it be?
What should companies and governments be doing to radically stop climate change? From our small perspective, we already know what we can do; consume less plastic, be more conscious, recycle, etc. However, changes at the individual level do not seem to be enough to address this problem.
Waiting for an answer…