This article is a translation of the original interview
We visited the sculptor Jacobo Castellano (Jaén, Spain, 1976) in the Casa de las Flores (House of Flowers), an emblematic building in the Chamberí district of Madrid.
Graduated with a degree in Fine Arts from the University of Granada in 2000, Castellano has lived and worked in Madrid since 2010, a city that offers him more professional guarantees.
The sculptor transforms the former stories of abandoned (or lost objects) into present narratives through an open dialogue between these elements, which are forced to coexist de novo in each of his works.
SciGlam: Your interest in the biography of objects began after you returned (as an adult) to the abandoned house of your grandparents, which was located on an olive grove in Andalusia. While there you got a significant amount of material and objects that you would work with in subsequent years—from a bicycle to a film projector. What do these objects tell us today?
Jacobo Castellano: The encounter with that abandoned house was crucial for my subsequent professional development. Let me give you some context. The Faculty of Fine Arts in Granada (where I did my training) was located in a former mental hospital; the windows of the classrooms did not open and there weren't any air filtration systems installed. As there wasn't proper ventilation, it often happened that toxic substances from the different varnishes, waxes and endless products necessary for painting, sculpting and other art classes accumulated in the air. Unfortunately, in the second year of my studies, I suffered severe intoxication from inhaling those vapors, which prevented me from continuing to attend classes; and, I had to stop using all those products. At the time I felt a certain emptiness since I was forced to look for other elements and materials to develop my work with.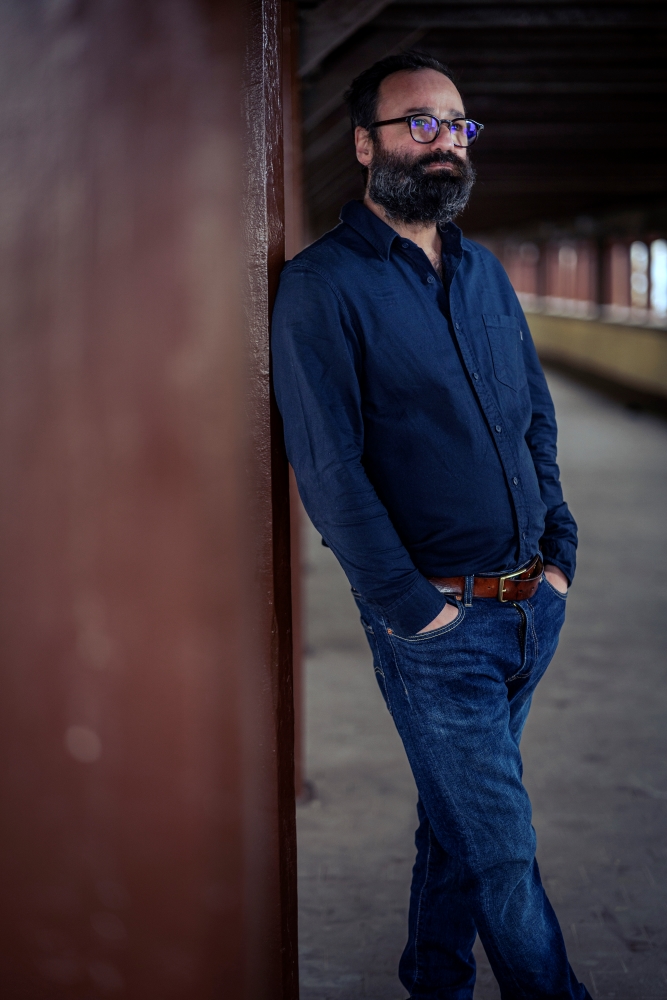 One day I asked my mother for the keys to the house where we used to spend our summers. The village is called Villargordo in the province of Jaén. I was curious about revisiting the corridors in which I was happy as a child. There I found the rocking chair where my grandfather used to have his "siesta," the bicycle I learned to ride with, the copper pots my grandmother used to cook pigeons, the projector that my grandfather bought to inaugurate the first cinema in town and an innumerable number of objects that took me years back. From the first moment those objects brought to mind actions, moments from my childhood, and it was clear to me that I wanted to work with them. Plus, they did not give off a smell!

When I started cutting up chairs and tables to compose my sculptures, I had the feeling that I wasn't cutting wood, I was cutting the stories that contained those objects. Cutting the copper pots wasn't cutting metal, it was dissecting a memory related to gastronomy.
I also crafted a work with the film projector I previously mentioned. My grandfather's cinema was a revolution in this olive-growing town in the interior of Andalusia, a window to entertainment and culture. When I show this element, I am talking about education, culture and entrepreneurship, it is not just a projector; I am talking about what it meant for that projector to light up the movie screen for years.
Besides objects, what else did you find in that house?
One of the materials that accompanies me throughout my career: dust, an essential material in my production. Rooms, tables, chairs… everything was covered with a thick layer of dust that had accumulated over the years. I swept the corridors, I accumulated it in little piles and, of course, I wondered what that substance was made of.
I discovered that part of it came from our own skin; that means I was surely sweeping up tiny portions of skin from each and every one of the relatives who once lived in that house. I would also be playing with pollen from the olive trees that slipped through the windows and, why not, with molecules from the chemicals used to fertilize the fields. It was fantastic, I had a family portrait under my feet and not only that, but also a piece of Villargordo society. Everyone and everything was there. We might call it metamaterial.
I have heard that after your experience in Villargordo, you even got to sweep the dust accumulated in your friends' houses…
Yes, later I became interested in other people's houses (laughs). I swept them up and threw the dust in the trash. I was interested in the idea of ​​throwing away some acquaintances; they were in the dust.

However, wood continues to be the leading element in your works. What about this plant tissue attracts you so much?
Yes, wood has haunted me since the beginning of my career. From it we managed to generate fire. This fact changed our eating habits—among many other things—and with it our brains were transformed and society was able to progress.
Many of us will end up buried in direct contact with the roots of the enormous cypresses that eagerly seek the sky and populate our cemeteries. What could be a better travel companion than wood?

The Casa de las Flores seems like the ideal home for an artist who is passionate about objects that have history. What is it about this building that has attracted scientists, artists and writers since its construction in the 1930s?
It is a luxury to live in the block where the Nobel laureate in literature Pablo Neruda, or the prestigious nutritionist and biochemist Francisco Grande Covián, did. Under this flat we also have the place where another Nobel laureate, the physician and biochemist Severo Ochoa, founded his first home with his wife Carmen García-Cobián (and where they lived until their exile due to the Civil War in 1936.)
Ochoa had enormous cultural interests and was a friend of poet Federico García Lorca and surrealist artist Salvador Dalí. I like to imagine these great creators strolling through the central courtyard of this building. Only for that, it is worth residing here.
Not long ago, during renovation work on the roof of this house, they found a bombshell from the Spanish Civil War. What was your experience of that unexpected encounter with the tragic history of this country?
Well, the first thing I thought of was that I should keep it to make a sculpture. But you can imagine that it would have been impossible. It is an object with a deeply tragic load, and it shows that the Casa de las Flores was a refuge for intellectuals and so a priority to destroy.

You came to live in Madrid while in search of better professional opportunities in 2010. Today you are considered one of the Spanish artists with the greatest reach in the contemporary art scene. Do you think your story would have been different if you hadn't come to live in Madrid?
I am convinced that it would never have been the same. I usually talk about the power of the capital; here is where meetings with colleagues take place and where most of the great exhibitions happen. The growth is exponential. I came from Granada, a fantastic city but very focused on tourism and the service sector. Everything would have been more complicated if I had stayed. I feel very comfortable in Madrid, my children were born here, and here is where want to stay.

With the boom of social media and the online art market in recent years, is it still necessary to live in big cities to succeed as an artist? It seems that the artistic community is finally decentralizing thanks to virtual galleries and the search for larger and more affordable spaces by artists. What does art gain and what does it lose with these changes?
Surely a decentralization of the great centers of artistic production is taking place due to the phenomenon of social networks. Now, we can be wherever we want and we can make our projects visible from the most remote places in the world. In any case, and in response to the question you formulated earlier, there is still a need for artists to meet. Physical interaction with the work exhibited in galleries and museums is essential from my point of view. When it comes to art, the live experience cannot yet be replaced. Digital art coexists with traditional models of art production and perception. Everything adds up, nothing is exclusive.
If you could ask a scientist of any background a question, what would it be?
What variety of organisms can we find inhabiting our skin?
Answer by Aayushi Uberoi, postdoctoral fellow in the Department of Dermatology at University of Pennsylvania, USA.