This article is a translation of the original interview.
Painter Abraham Lacalle (Almería, Spain, 1962) invited us to his cottage in the forest, where we talked about his relationship with nature, a signifier that he uses in his work to show his unique vision of reality.
Lacalle is currently one of the most influential painters in Spain's art scene. His work has been presented in a vast collection of exhibitions and museums both in and outside of Spain. It can also be seen on the big screen; his painting Portería appears in Dolor y Gloria (2019), an autobiographical film by the Oscar-winning director Pedro Almodóvar.
SciGlam: Nature is a recurring topic in your work; has this been true since you started your career as a painter?
Abraham Lacalle: No…well, nature is everything (laughs). I have used landscapes and everything that relates to the outside as a signifier for a while. When someone paints, they seek to tell something; they use painting [as the method] and the theme is expressed by the signifier. I use nature.
Curiously, the choice of the signifier does not necessarily have to do with the personal tastes of the artist. For example, once I painted a broken tennis racket and people would ask me: "Abraham, do you like tennis?" But I simply used the image of the racket to tell something. The directors of serial killer series are not serial killers (laughs). However, in my case, nature does attract me a lot. In fact, I have a very close relationship with it. Nature arouses my curiosity at many levels, not only from the point of view of landscapes but also physics and astronomy. Explicitly, I have been focusing on landscapes and the forests for only a few years.
Entering the forest is entering the most primitive side of man. It is a place where you watch and are watched. The forest maintains an atavistic relationship with humans, with our nature.
Now that you mention forests, do you use them in your work because you like them, or do you also use them as a signifier?
Again, I appeal to the forest as a signifier. I believe that the forest is an initiatory place. In the story of Little Red Riding Hood, for example, she goes into the forest to "grow up." She meets the wolf and the hunter, both of which are metaphors that represent adulthood. Entering the forest is entering the most primitive side of man. It is a place where you watch and are watched. The forest maintains an atavistic relationship with humans, with our nature. It is where you protect yourself but is also where you encounter the most danger. The forest holds all of that meaning; it has great beauty, but it can also provoke that ancient fear.
Especially at night, right?
Yes, especially at night! (Laughs)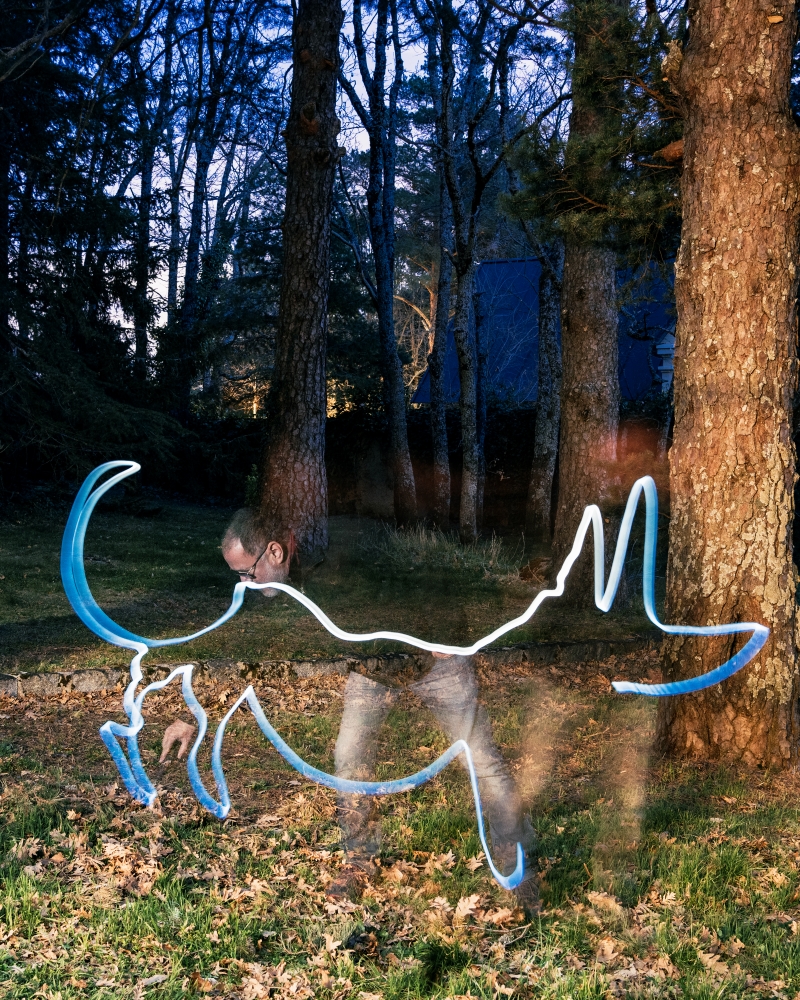 Continuing on the subject of signifiers, in your work there are many traces of human presence without human figures being physically present. What can you tell us about this?
The subject of the landscape is curious. If we look back to Renaissance landscapes, the paintings foreground a human figure and behind it, we observe field instead of forest. What is the field? It is wild nature tamed by man. In this case, that is the beauty: man over nature. However, in the Renaissance landscapes of the Netherlands, the woods are depicted as full of tiny figures. This has to do with the fact that the people there perceived themselves as small ants when compared to the dominant hostility of nature. They painted themselves like this because their society lacked heroes—it was the community that was most important, not the individual. In the Mediterranean, the characters are all heroes dominating nature.
In the Romantic period, the landscape becomes a force that destroys man. Even more hostile than during the Renaissance but because of its beauty and sublimity.
The landscape is a creation of man; it is as if you paralyzed nature in relation to an idea. Nevertheless, we have to be aware that we are born in a room, in an architecture that is going to be our place of comfort. Outside of this room, we relate to the natural world in different ways, but to be completely outside is to face constant hostility.

That is why, more than anything, I show trace of the passage of man and how nature continuously overcomes it in my paintings. It is clear that we are destroying our relationship with the environment, but nature has the last word. We are just a part of it. Our time on Earth is going to be nothing more than as if it had the flu for one week of its life. A flu that has left it in bad shape, yes, but it will recover and we will disappear.

What about the aesthetic part of your work? Your paintings are very colorful, but you use colors that are hardly seen in nature with such intensity. Are the landscapes you paint real or imaginary?
I start from visual memory. The landscapes are invented with respect to what I want to tell. If I want to paint a broken tree, then I just paint it. It is like writing a novel, which is not an actual chronicle of reality. I take reality and I accentuate it with color and shape, but my art is not mimetic of reality.
Regarding color… Color is perception, meaning that it depends on many things. The colors I use are in nature at one level or another (of course I amplify them; let us say I saturate them). Our perceptions of the world around us are very curious. For example, Heisenberg's uncertainty principle says that the way you see something depends on how you light it (meaning you will never see it as it really is).
I illuminate the version of reality that I want to express, the one that I build. I illuminate it and I use color as a signifier, like the shape of the trees or the landscape itself.
On the other hand, Thomas Pynchon, an American author who writes about light, mentions in one of his novels that the greatest way of seeing something is through hyperillumination. However, hyperillumination is explosive. If you illuminate something that much, you destroy it, so you have to moderate the lighting. I illuminate the version of reality that I want to express, the one that I build. I illuminate it and I use color as a signifier, like the shape of the trees or the landscape itself.

What do deciduous forests suggest to you? They have very striking and bright colors in autumn.
Now that you mention it, moments of transition interest me and I use them a lot in my paintings: sunsets, sunrises, the transition from summer to autumn where, suddenly, the leaves turn from green to very intense reds and yellows. There is a lot of color in those transitions.
Interestingly, our relationship with nature is one of transition. We lost contact with nature when we became farmers and created the concept of a nation, when we made fires with squares around them and said: "this is mine." By having houses, nature becomes a separate entity from us. In contrast, when we were nomads, we camped and moved around constantly, so our connection with nature was much closer.
You have visited different countries including the Philippines and Mexico, which clearly have very different natural landscapes. Which one inspires you the most?
They all inspire me. When I build my landscapes, I often think of mixing nature from everywhere. It is like the construction of the colonial landscape: to build the gardens of Spain and London, for example, seeds were brought from all over the world. I belong to the Mediterranean landscape, but many other landscapes have impressed me. The humid jungles of Palawan in the Philippines impressed me because of how beautiful and hostile they were. In Baja California, Mexico, near Los Cabos, there is a central mountain range in the peninsula that is one of the most amazing landscapes I have ever seen. In summary, each bit of landscape adds to a plot that supports my final result. As it suits me, I make a cocktail (laughs).
Let us talk a little about your career. In what year did you make your first painting?
I have been painting all my life. I entered university in 1982. In 1984, I had my first collective exhibition with people who are still painting to this day. Then, in 1988, I did my first individual exhibition.
What did the first exhibition mean for you? What did you feel when you saw your painting on the wall and people looking at it?
Every piece of art is built through others' gazes. If I go to an island and nobody sees my paintings, my paintings do not exist. Only when someone else sees them do they begin to exist. The painting is not the painting itself; the painting is the gaze of the other. However, I have always been very unaware. I was not aware of what that gaze could mean, I was simply very happy. I tend to feel more or less happy with almost all activities.
It is good that you do not get nervous!
I do not get nervous at all. I have done quite a few individual exhibitions and the truth is that I have not gotten nervous at any of them. Actually, not long ago (this is an anecdote that I do not need to tell, but well… (laughs)), I had an exhibition in London; they called me on the phone one day, and they said: "Where are you?" I answered them: "I'm at home" (laughs). And they told me: "But we are opening in London!" I had completely forgotten to go to the opening (laughs). Fortunately, they did not get angry with me, they saw I was so calm that they did not even get angry. In fact, the openings do not matter so much to me, but in terms of my work—it does not matter if I exhibit in a major museum or in a small gallery—I always take on the job with the same dedication.

We have talked about how natural ecosystems are always changing, what would you say has been the main change in Abraham Lacalle's work since the '80s?
There have been several important changes, but I think the most important has been recent. I have had several stages, but the longest one took place when I used the avant-garde movements of the 20th century as references. The avant-gardes of the 20th century focus on questioning the language of painting at different levels such as the formal, social, political, etc. A painting hanging on a wall is an object of bourgeois consumption and the image inside that painting represents that object.
Grosso modo, Picasso and all the cubists dissected the space and analyzed the language. Later, the painters of abstractionism abandoned (or even denied) mimetic art, meaning that there was no longer a relationship between art and reality. Well, for a long time I worked in that same direction until I realized that rigorous analysis of language led to silence. It happened to Wittgenstein and some poets who only made sound poems. After making a sound poem (because you think the message empties itself of content) you should not do anything else. So, I took pre-avant-garde references and began to paint landscapes as I pleased. That is the most important change in my life as a painter.
Are there topics from your social context that are currently reflected in your work?
Of course there are! Painting is sustained by several threads. They can be political, social, personal concerns, phobias, affections, etc. All of these threads form an amalgam that gives you the themes that you then express through shape and color. The good thing about painting (or the bad thing) is that it cannot be dissected. All the organs that support that body (the painting) are mixed, crushed between them, not distinguishable, and they have no solution of continuity.
Could you tell us about a topic that currently appears in your work?
Oh, man! A subject that interests me a lot is 'dynamic expressionism,' to give it a name. That is what [Peter] Sloterdijk, a German philosopher and media theorist, calls it. Dynamic expressionism is an artistic style that plays with the amount of images that reach us and how they are emptied of content, overlapped, and made to vanish. They do not build anything; they do not allow thoughts to form because they pass very quickly…
This topic worries me and I want to give an answer. One way to do it would be to paint abstract pictures where the image disappears, no longer acting as a container of ideas because there are too many. The idea is to do something that is the pure essence of painting (which is color) and to communicate something. That could be a possibility.
I, on the contrary, work the hyperimage. Instead of making it disappear, I saturate the image with color and I do not copy it from reality. I imagine the piece, so the filter in my head also counts for something.
There are things happening in the world that break your heart, shrink it and destroy it. I think that one of the things that best expresses that is this expression of the image… its speed.
I believe that regardless of how you make art, you should do something that captures the attention of others.
Finally, what do you think about the work of the painters of the next generation who are already in their 20s-30s? What catches your attention the most?
I do not know, currently there are so many… Right now, there are a lot of ways of expressing oneself that I do not know very well. There is also a lot of revival. That is, people who are taking up earlier artistic movements. There is a bit of dispersal I think, but we are so many artists that it is logical.
For example, art with explicit political commitment (which does not have to be negative) is currently very fashionable, but generally, what we see is empty of content. This type of art is not necessary because it does not contribute to anything. And it's not that I'm not interested in political art, I could tell you about artists from the 70s with explicit political commitment that I love. I suppose that over time (like everything) they will settle in one place. I believe that regardless of how you make art, you should do something that captures the attention of others.

If you could ask a scientist of any background a question, what would it be?
Heisenberg's uncertainty principle seems to extend beyond quantum mechanics. It has influenced different fields of culture. This is evident when the anthropologist Claude Lévi-Strauss in Tristes Tropiques observed that when contacting Paleolithic tribes, he could no longer perceive them as they really are.We could say that by "illuminating" them we alter them. Also, regarding reflections on perception and image, this principle has been decisive; the painting in the 20th century became aware that the knowledge we have of reality is reduced to simple images.
How is it possible that Heisenberg's uncertainty principle finds parallelisms in anthropology or painting and yet is not applicable at a macro level in classical physics? In summary, why do different principles apply for quantum mechanics and classical mechanics?
Answer by quantum physicist Shlomi Kotler, Assistant Professor in the Department of Applied Physics at the Hebrew University of Jerusalem, Israel.