This article is a translation of the original interview
MIYAYA, by artist Carla García, is a craft project that has captured the attention of major fashion and design magazines. It offers a variety of ingenious functional ceramic pieces that look like something out of a modern art gallery.
Italian coffee pots, papier-mâché bowls, cans of anchovies, or the typical takeaway Tupperware are some of the everyday objects that have inspired her collections.
García studied Fine Arts and Design; however, it has been through ceramics that she has found a recreational space that allows her to create and express herself freely in a discourse that advocates sustainability and artisanal tradition.
SciGlam: Eight years ago, you quit your career as an artist and designer to focus on ceramics. What pushed you to take that step?
Carla García: Ceramics is something that I have always been close to—my mother and my great-aunt were potters—though for me it was part of my family, I had never thought about dedicating myself to it.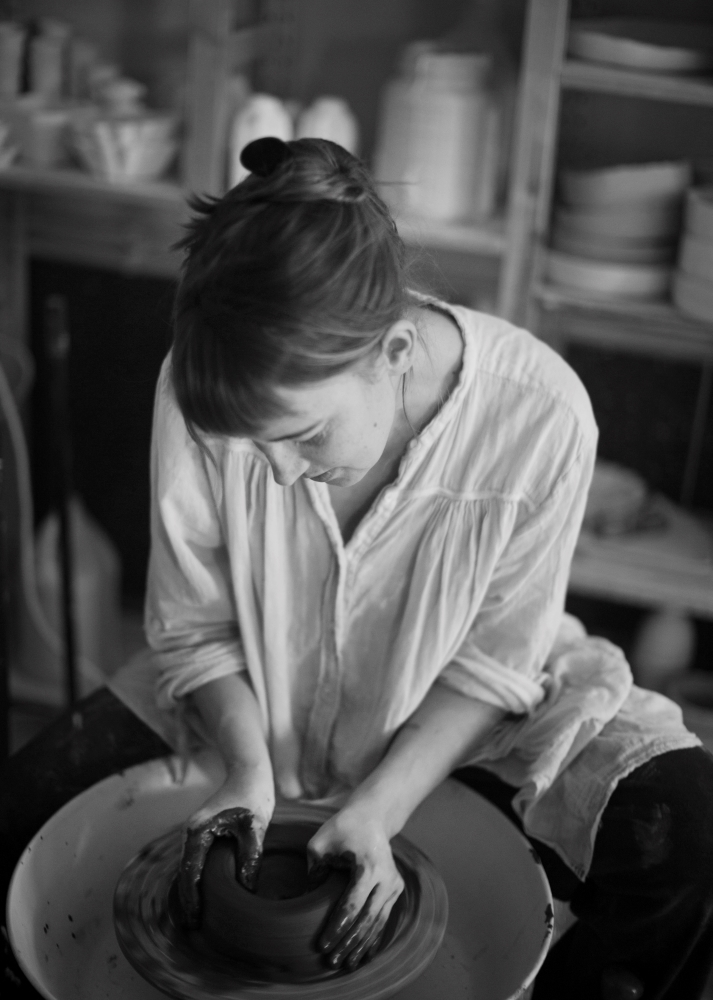 It arose by chance when I decided to take a break after closing an editorial project that I had created with some friends; being in a more relaxed stage of my life, I began to make pieces with great enthusiasm. Three months later, I signed up for a design fair, got up to speed with production, and here we are… Ceramics are very absorbing (laughs).
Sometimes you go to a museum, and you see this beautiful sculpture, and you think: "imagine it containing some oranges"
Your most successful collection, No Plastic, denounces the massive use of disposable packaging and its environmental impact. Why have you also embraced the fight for sustainability?
Well, the truth is that it was also by chance. When I started playing with ceramics, I wanted to learn how to make molds—my mother had never used molds—and for that I started looking for disposable objects. Then I realized that I always ended up using plastic containers because I had them accumulated everywhere.

I have always tried to avoid supermarkets that sell everything wrapped in plastic and things like that, but you realize that it is not so easy to avoid packaging. Let's say that it was a vision that came to me as a result of what I had at home and by then I had already begun to put together the discourse at the media level.

Your packaging does not have plastic either.
I try to avoid it. I use cardboard or wooden boxes. Only in the tubes that I use for some packaging do I have to use plastic caps; I have not been able to replace them, but I keep trying to think of ways to solve it.

Tell us about your Moka collection, how did you come up with the idea of using an Italian coffee maker as a mold for coffee cups?
I designed the Moka collection based on the emblematic design of the Bialetti coffee maker. I started to study its shapes and realized that by breaking it down, each piece could become an element of a complete coffee set. Again, it was a way of designing from the observation and modification of the environment.

Having trained in Fine Arts, do you consider doing projects aimed at the art world?
Well, eventually, I thought about contacting some people in the field (designers, illustrators, painters, etc.) and making a special collection for art galleries with the bag from the No Plastic collection, but I haven't found the time yet.

The thing is that, in the end, I'm always in the studio. I don't have time for anything else. But I'm currently working on a collection based on the abstract artist Sonia Delaunay. She was a well-rounded artist with beautiful work. Delaunay worked on a lot of arts & crafts: dress design, set design, etc. I am making a tableware set based on her painting.

In any case, I started in ceramics shunning the art world. It's such a difficult environment… and frustrating! There came a point where I wanted to get away from all that.
On the other hand, I love crafts because it is a way to develop creative and artistic pieces without being immersed in that pretentious environment that surrounds art. I feel very relaxed here.
I started in ceramics shunning the art world. It's such a difficult environment… and frustrating!
I really like that crafts are functional; that the works, in addition to being beautiful, can be used. Sometimes you go to a museum, and you see this beautiful sculpture, and you think: "imagine it containing some oranges" (laughs).
I will add my artistic side little by little, but without abandoning the fundamental purpose of craftsmanship: functionality.

Will we ever see MIYAYA's creations in museums, like the Duralex tableware at the Museum of Decorative Arts in Paris?
I hope you will! Actually, look, what a coincidence! I recently wanted to make a ceramic version of the Duralex dinnerware line. I even bought some second-hand pieces to make the moulds, but then I thought it didn't contribute much and I abandoned the project. Duralex is perfect just the way it is, I love it!
If you could ask a scientist of any background a question, what would it be?
One thing that I think about a lot, and that interests me a lot, is the development of artificial intelligence—its progress and the ethical or moral limits imposed on its development. How are they established, who decides them, how are these "committees" selected, and how modifiable are these parameters as progress is made?
Esperando respuesta…