This article is a translation from the original interview in French
Carole Bellone (Marseille, France, 1977) uses her art to raise awareness about the fragility of aquatic ecosystems. She uses different media: paint, clay, wood and canvas. The ocean is her source of inspiration; the water, and the sea creatures, the words she uses to transmit a message of well-being. The same well-being she feels when she paints the purity of light and the wave movements of a sea scene.
Bellone lives and works in Madrid. We took the advantage of the artist's visit to Barcelona to interview her in an idyllic location, the Costa Brava ("Rough Coast") —sun, beautiful beaches and pure nature.
SciGlam: Let's start talking about you and your paintings. When in your life did painting call out to you?
Carole Bellone: Actually, since I was very young. My grandmother used to say that I was already drawing tulips, flowers, and stuff like that by the age of three. I've always enjoyed creating. It's something that has followed me all my life and I always try to find time to paint wherever I am.
I have always been fascinated by the way artists represent light.
You are self-taught, but who are the artists or the people who inspired you?
Ah it's true, we are never completely self-taught! I had two grandfathers who drew: a grandfather who did industrial painting, and another who painted, although I didn't like what he did at all (laughs). But my first and only teacher was my maternal grandfather, the industrial designer. It was him who taught me how to draw perspective, shadows… He also showed me how to draw faces. I loved learning all that with him.
Moreover, I like to go to museums. I like to observe the details of the paintings to see how they were done. I imagine the painter's brush at the precise moment he made it. Here in Spain, I recently visited the Museo Sorolla, it was beautiful! Sorolla painted a lot of landscapes with the sea and a lot of light. I have always been fascinated by the way artists represent light.
Today, with social media, it's very easy to have access to lots of artists and subjects related to what I do. I follow people on Instagram who are real models for me. I dream of someday arousing the same level of admiration as them. Particularly, there's this woman, Irina Cumberland, from the US, who only paints water. She lives by a lake and explains how she has acquired her technique after 15 years of painting it every single day. They almost look like photos, but if you approach the paintings, you can clearly see that there is a real technique behind them and it's really beautiful.
Then, social media has helped you?
Yes, there are always tutorials. Recently, this woman [Irina Cumberland] gave some tips for painting waves. It can be just silly things that you discover by yourself. For example, when painting the foam, you should never use white first. In the end, it's never pure white. You must put pale blues, or light grays, and then white as the last touch on very small parts. And this is what will give the realism of the light. There are lots of things like this that can be learned through her YouTube tutorials in just a few minutes.
I wouldn't be able to sell a painting that I haven't enjoyed making. I prefer to repaint it entirely.
Talking to you and looking at your paintings, we can see the importance of the light in your work. How do you transmit this light to the public?
Indeed, light is the common thread of what I do. The light is really what gives the painting a feeling of well-being when you look at it. I've always liked the light in the places where I've lived. I really like sunlight; I am a girl from the South of France, it's part of my life, of my own well-being. I like nature in general, even a gray sky can be very beautiful; but I really feel good when I see what the sun can do through the trees or the water. There's this kind of magical shimmer that's so damn calming and invigorating at the same time. That's what I'm trying to portray.
There is a feeling of fullness when you manage to make a painting that is pleasing—and that pleases you yourself. You feel proud of it. Sometimes you have an idea in mind, and it is impossible to get it out; but when you get there, it's a bit like the planets have aligned. I wouldn't be able to sell a painting that I haven't enjoyed making. I can't do it. I prefer to repaint it entirely. I need to have an emotional attachment to the painting. And when I see it go, I must be sad and happy. Being an artist is complicated… (Carole laughs).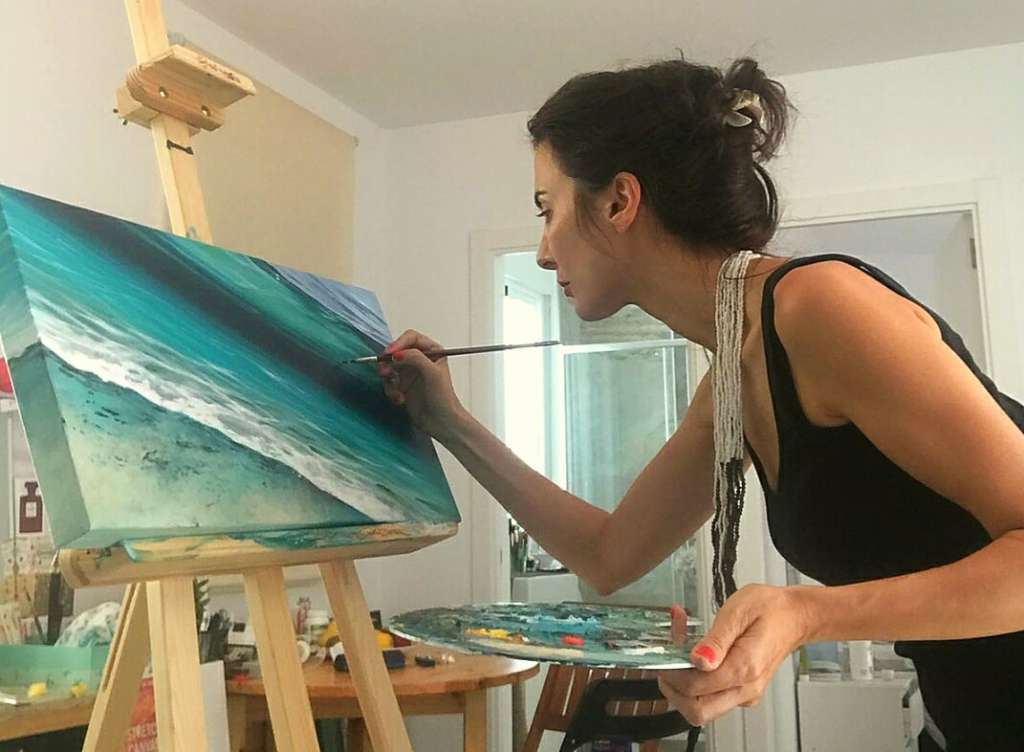 Then you have a vision of what you want to do before you start a piece?
Exactly! When I start, I say: "here I would like to paint, for example, a surface with the sea, with a very very vivid light that one imagines in full sun, so that one almost has to wear sunglasses to look at the painting." Then you realize that light is magical to paint. What gives the shine effects are the halos that are around the point of light that are sometimes red, sometimes yellow, sometimes purple. And, yes, there will be a little bit of white at the end, but the shine is not going to come from the white. It's funny. Light is a really cool thing to work with.
These are things that I discovered pretty much on my own. But then, later, I saw them in other artists like Sorolla when I looked closely at his paintings. In his museum, there is this landscape with a lady walking on the edge of a cliff (a bit like we are doing right now) and the color purple is everywhere. It gives you the impression that the light is purple but at the same time it gives a sunny effect that it's exactly what is needed.
What runs through your mind as you paint?
It takes a lot more energy than you think. How can I explain… You have to be in good shape to paint, to take on a large canvas and to accept failure. Sometimes it does not turn out as you want it to and it can be frustrating. But even if a painting starts well, it may easily take me half an hour to get completely into it. After a while, you are no longer aware that time is passing. You get into a kind of trance; your spirit leaves, and you continue to paint. That spirit can go anywhere.
There are also moments when I'm tired and I tell myself: "stop!" It's like personal relationships; at some point you need to know when to leave, to come back in a better mood—or not come back at all! (Laughs).
You have to be in good shape to paint, to take on a large canvas and to accept failure.
What led you to decide to work on subjects like the sea and water?
I've always loved the sea, but I only started painting the see about 4-5 years ago while I was living in Singapore. I wanted to make a little clay sculpture. I wasn't sure what to do, and I made a sculpture of a little fish. Then I made another one and another, until I made 200 or so fish, and I painted each of them in a different color. I thought I would stick them on a wooden board and orient them along the wood grain to mimic the seabed. Later, I tried to reproduce the 3D relief that I achieved with the clay, and I started painting a lot of underwater stuff. I realized that what I really wanted was to reproduce the feeling of the water, and that's when I started painting my first waves.

You have traveled the world, how has that influenced your artwork?
That's a good point. The two aren't necessarily linked, but I think there might be some bridges. For example, when we were in Montreal, where winters are cold and long, I started to paint landscapes of Provence with lavender, poppies… Nico (Carole's partner) would ask me: "but why are you painting that in Montreal?" Well, I was just saying that I missed the heat and light in winter, so I painted it.
Later, in Singapore, it took me a long time to get back to painting, although I think things happen for a reason. It was hard to find the time for it because I was working, but I missed it, and it was a relief to find the theme of the sea. I knew it was going to stay with me for a long time. In Singapore we used to live near the sea. It's an island, but it is a very artificial island in most aspects, and I think that painting the sea as it really is allowed me to escape and to return to the nature that I had lost in Singapore. I heard that once in a song "melancholy is edible past." I think that's true. I have the impression that painting allows me to get closer to things that I don't have anymore. I recreate my universe; it's a need I have.
You donate part of your profits to a foundation that protects the oceans, why?
I care about the environment in general, like many people, but it's true that I am particularly sensitive to issues involving the sea. When we were living in Asia, we saw beautiful landscapes. Especially in Thailand; they were magnificent! Pollution touches your heart to the point that you realize we have to raise awareness in people as much as we can.
So, I said to myself: "I have to use my paintings to be able to contribute to a tangible cause, which goes beyond just art or emotion." At least each person who acquires an artwork will go further than just owning a painting. There will be a small part of it that will help to establish something or to make a sanctuary for turtles somewhere. For this reason, part of my income goes to The Ocean Foundation. Its mission covers many sea-related issues: scientific research, the defense of the natural spaces, the fauna, the flora, the fight against pollution…

I invite everyone to look at what they do on their website; they work everywhere. When I called them, they were very open. Obviously, they are always looking for donations. Now I can use their logo and I receive a newsletter updating me on what my small contributions have achieved. I feel useful, so it's great.
We live in difficult times, so my anchor to reality is to tell myself that we are all animals in essence, that we should come back to the simple things: nature!
You talk about giving well-being to people, about protecting the oceans… Is that the role of the artist, according to you?
The role of the artist…. I think there are plenty of roles. The way I see it, it's really to choose a role aligned with your own beliefs. I enjoy painting, which could be a rather selfish activity in fact, but on the other hand there is the transmission of this well-being that I feel. I think the artist transmits something. I like to convey well-being, energy… at least I like it when people experience what I get from painting.
There can also be very concrete missions like environmental awareness. I am someone very sensitive to that, to animals, etc. Nature is something I feel attracted to. But other artists may be more into warning people about social issues. I'm not saying that I'm not interested in that, but it's less a part of my world. Some artists will draw attention to pollution, or overconsumption, or digital issues. For me it is nature and that almost animal connection we have with things that are big points of reference in my work. We live in difficult times, so my anchor to reality is to tell myself that we are all animals in essence, that we should come back to the simple things: nature!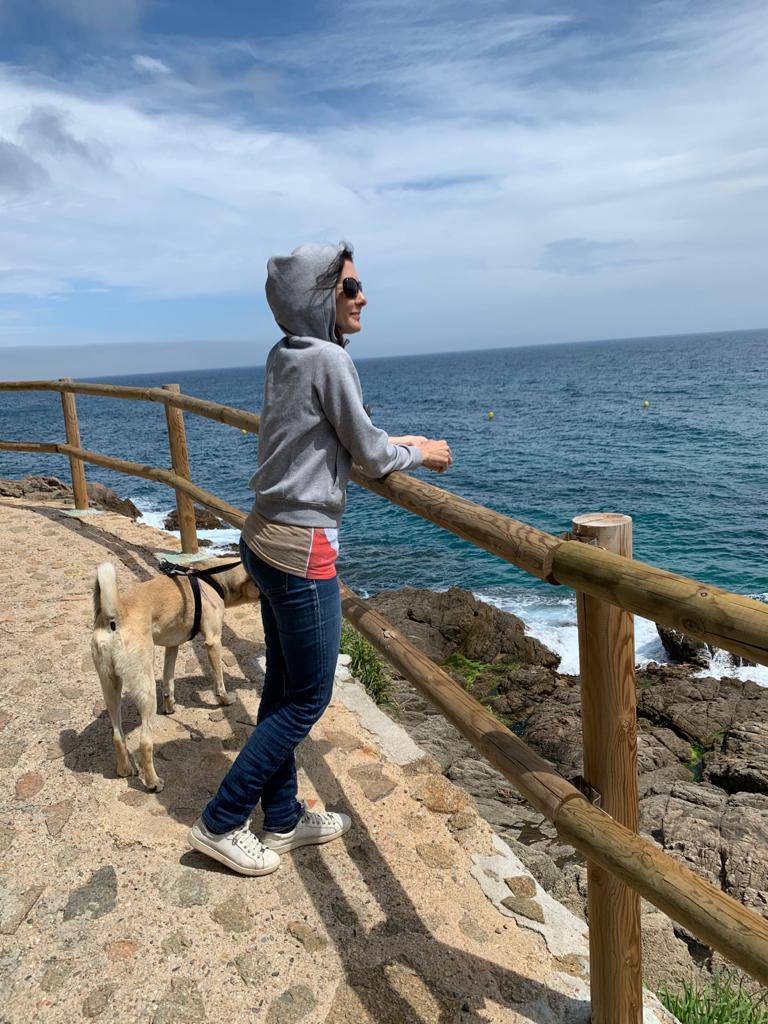 Here we have Oggy [Carole's dog] with us, for example. "What are the simplest everyday things that make us feel good on our little planet?" That's kind of what I try to convey through my artwork, which is ultimately super simple. I never put humans in my art, or at least very few. And if I do, I want them to convey a feeling of well-being. When I paint people in the pool, I want to show the happy side of the pool, the contact with water. So, there you go, transmission of positive emotions—that is my role as an artist.
I never paint storms for example. Although there are some very beautiful and very positive storms as well. Sometimes they are full of energy, but I can't see myself painting a storm. I have a storm inside of me sometimes, so I prefer to forget it (Carole laughs).
You don't want to share that storm?
No, I prefer to share calm things, lapping waves; with that energy we can breathe.
Maybe if you shared the storm, it would lighten you up?
Exactly, maybe an exorcist side! (Laughs). I'll think about it…
If you could ask a scientist of any background a question, what would it be?
Where do art and science meet? What parts of art do scientists have in their daily mission and, conversely, what can we see from science in art?
Answer by neuroanatomist Javier DeFelipe, research professor at the Cajal Institute, in the Spanish National Research Council. DeFelipe is an expert on neuroart and scientific "art."