This article is a translation of the original interview
Actress, fanzine writer, podcaster, skateboarding lover, DJ, and vocalist of indie bands Clovis, Los Eterno, and her solo project Daga Voladora. Cristina Plaza (Madrid, Spain, 1975) has become an icon of Madrilenian counterculture today.
We chatted about pop divas, acrylic nails, boreal villages, daddy-longlegs, and pandemics. We didn't leave anything out…
SciGlam: Actress by training, indie singer (and songwriter) by profession… Was this change a part of the script?
Cristina Plaza: From the script of life, yes. Since I was little, I have wanted to be an actress—I still do—but it's also true that music has always been a fundamental part of my life. At school I made songs, I loved musicals… My music teacher always tried to convince my parents to sign me up to the Conservatory, but at that time I guess I was more into show biz. I met Fino Oyonarte shortly after starting Dramatic Art, so let's say the two worlds ran parallel. And then one day, after 3 years of dating, we made a song together, then we recorded it. One thing led to another, and little by little my attention was focused on making songs.
After Clovis dissolved, you started a more personal project, Gran Aparato Eléctrico, with which you published 2 albums: "Rayos, truenos y relámpagos" (2010) and "Espejo, espejito" (2012). What is this new project about?
Let's say that, in a band, no matter how much you have in common and no matter how well you get along, you have to be giving in all the time. I needed to do something that I could identify 100% with, to be solely responsible for the words or sounds I wanted to use. Also, it was a way of demonstrating to myself that I was capable of recording an album alone. In the end it's also a trap, because many times you feel lost or exhausted, and you miss the energy of other people for balance. But the truth is that after releasing a second album with Clovis, I became disenchanted and, especially with the concerts, I suffered a lot. I don't know, I started to make songs on my own, with no other requirements other than just liking them and with the creative freedom of not having any obligation to play them live afterwards. At first, I took it as a vacation, because it's not like we were saying "Clovis is over." Rather than consciously dissolve, we dispersed.
In a band, no matter how much you have in common and no matter how well you get along, you have to be giving in all the time.
According to the selection made by the music and film blog Hipersónica for RYM, "Espejo, espejito" deserves the 9th spot of the best Spanish albums of the last decade. You came before acclaimed bands such as Los Planetas or authors of great international impact such as Rosalía, who remains in position 20! Why isn't your photo everywhere? Are you not good enough at doing acrylic nails?
(Laughs). I do terribly bad! (Actually, I hate everything related to nails; they give me a lot of grief, I even have a terrible time cutting them). But hey! We all know that Rosalía is an artist with enormous talent and, above all, with a determination that I still lack. I mean, for your photo to be everywhere, the main factor is that you must want it to be. In some respects, my attitude is the opposite of what an artist is supposed to have; It's difficult for me to give concerts, I don't spend the necessary time to learn how to sing, play or produce better; what I record is often far from being accessible to most people… Or maybe it's not that I don't want to be more accessible, but that I don't know how to do it without having to give up things that are deeply ingrained in myself. As for that Hipersónica list, it's crazy that "Espejo, espejito" appears there, and at the same time I love it and it seems phenomenal to me. Not long ago I listened to it again and I thought: "Well, it's not bad at all."
Why did you change the name Gran Aparato Eléctrico to Daga Voladora?
Because I'm an idiot and I didn't register the name, so after the second album, two smartasses showed up and registered it and they told me that I had to stop using it. So I thought of a new name, Daga Voladora, which was the first thing that came to my mind, and is what I would have liked to throw at them if I had had them in front of me. I remember thinking about taking advantage of the name change to make some changes to the sound, trying to do something more rhythmic and less ethereal, but I'm not sure I would have succeeded.
You recorded the last album by Daga Voladora, "Primer Segundo" (2016), entirely in a small village in Sweden, what brought you that far away?
I think it was the need to be isolated, or at least in an environment that allowed me to focus on my own things. I live downtown in Madrid, I do not have a study or a room of my own, there aren't even doors in this house. Distractions are constant and I often find myself totally blocked. I am lucky that my sister, who lives in a quiet place, invited me to visit her, with the particularity that that place is 6000km away. Once there, the nature, the weather, the silence… turned out to be very beneficial for me and the place itself also became a source of inspiration.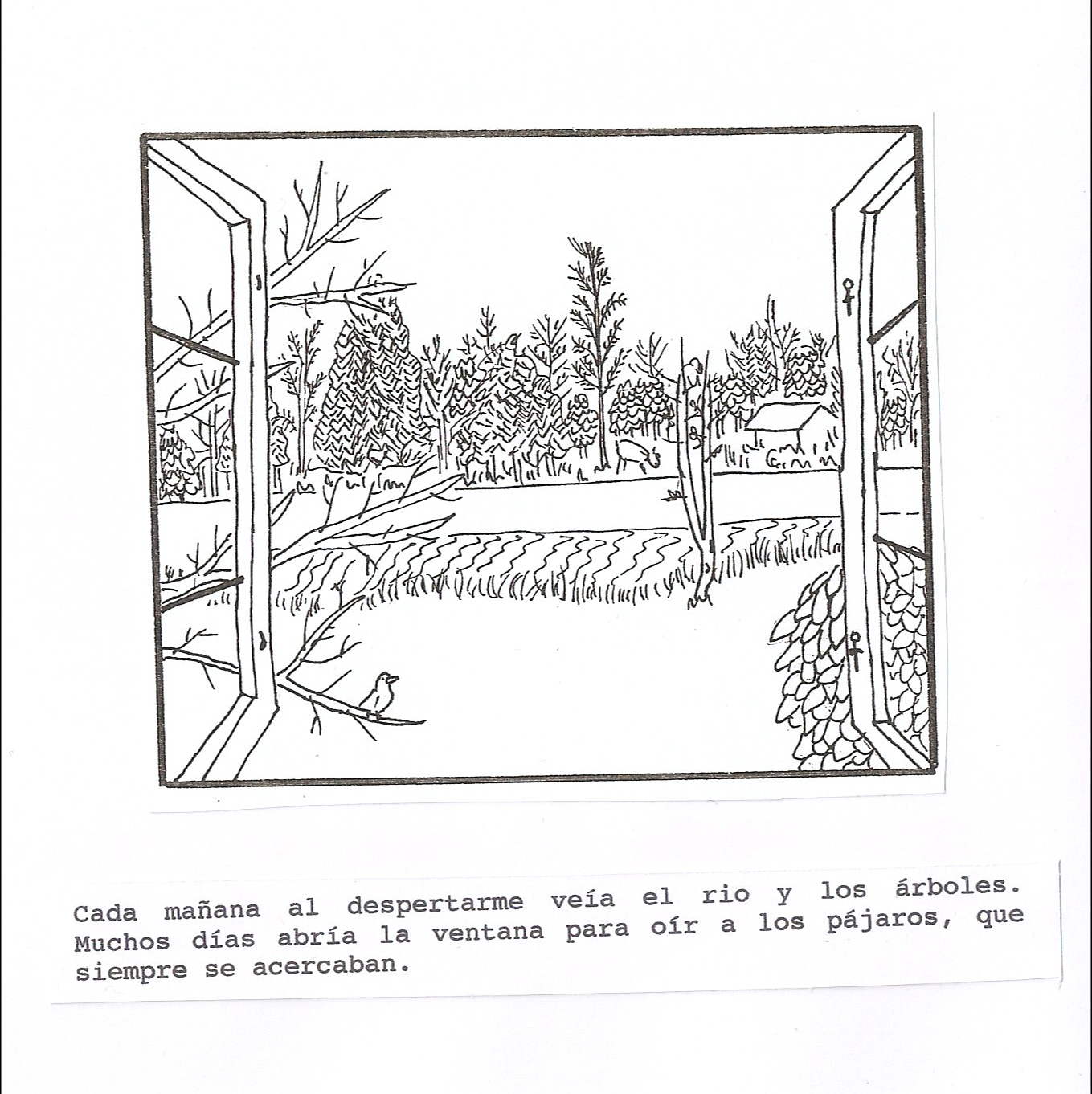 How was the production process? It was a low budget recording and you did it all, right?
Yes, I brought a guitalele (a guitar the size of a ukulele) and a laptop. Until then, I had only recorded analogically, on a 4-track, and I had no knowledge of ​​recording in Logic, but in the end, intuitively, you get along. I am a very low-tech person; I am very lazy and I commit a lot of aberrations. For example, I recorded everything with the laptop's mike, but I didn't have any other way of doing it either! Sometimes I would go for a walk, I would go into the forest and record some sounds there with my mobile phone, and then transfer them to the computer. That is really fun for me, fiddling with the parameters and transforming sound; that's where I can spend hours. But reading the instructions for a gadget? I don't spend half a minute!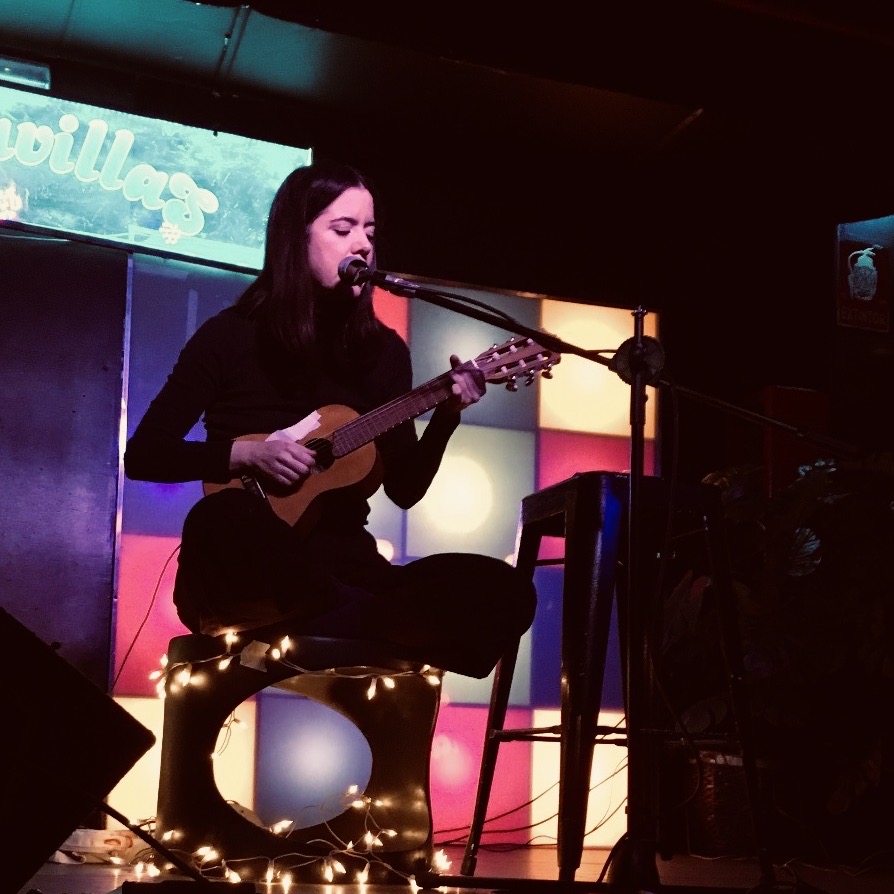 The song "Club de Salvamento" tells the story of the rescue of la Araña Patilarga (daddy-longlegs), was it a real rescue?
Totally! And there were several rescues, actually. Imagine, I was in a log house in the countryside; obviously, there were insects, the days that none appeared were rare. One afternoon, I was in the kitchen with other people and I saw this spider walking on the wall. I calmly picked it up, opened a window, and tossed it outside. They all stared at me, and immediately confessed that they had all been doing exactly the same thing. I found it funny to think that we could form a salvage club. I started improvising a hypothetical anthem for that club, and that's how the song came out. It was the first one I did in there, the one that broke the ice for creativity (or something like that). Sometimes I think I was wrong putting it at the beginning of the album, but it was a way of saying "that's how everything you are going to hear next began."
In Northern Europe there is this superstition that if you kill one of these arachnids, there will be a bad harvest season that year. Meanwhile, here in the South we run at spiders with a slipper in hand! Was there a good harvest that year in the village thanks to the salvage club?
(Laughs). Oh, I don't know. I also didn't know about this superstition! In any case, whenever I can, I try to get the bugs out of the house rather than scattering them. Except if they are cockroaches, then the one who leaves the house is me.
Besides making an album, what other things are done in a Northern village?
Well, don't think much more (laughs). Take a stroll, contemplate lakes and deers and sunsets, go to the sauna or attend an ax-throwing contest, or attend a dance to listen to a group of 14 septuagenarian violinists, see the Northern Lights (the "estela verde" that I mention in "Amigo invisible"), eating cinnamon rolls, reading and reading by the stove… things like that.
The possibility of making songs and having others sing them seems cool to me. It has something to do with creating a character, it's almost like being an actress.
Your latest work, Vivero Sopor, came out in March 2020, in full confinement (which was also especially strict in Spain due to the severity of the first wave of COVID-19). "Cuando Menos Te Lo Esperes" could have been considered a song for post-pandemic hope if you hadn't actually written it in 2017! Confess, someone must have tipped you off!
(Laughs). No at all! It was a song that I made after Luz Casal recorded "Quise olvidarte", a song that I had composed and that she included in her album "Que corra el aire." I had some ideas that were along those lines, songs that I don't see myself singing, out of modesty, or perhaps because I feel more comfortable in darker terrains. The possibility of making songs and having others sing them seems cool to me. It has something to do with creating a character, it's almost like being an actress. The fact is that I couldn't find anyone who wanted to sing "Cuando Menos Te Lo Esperes" and I ended up recording it myself. Then the confinement came and I started mixing it to distract myself from the news. I put it together with an instrumental that I made in those days, and I uploaded it to Bandcamp… I still think that a singer with more punch than me would have gotten more out of it, but here it is. Anyway, in December I have a concert; maybe I'll dare to sing it, just to see people's faces.
If you could ask a scientist of any background a question, what would it be?
I have vitiligo and I always hear people say that it is an autoimmune disease, but I do not fully understand what that word means or what it entails.
Answer by biomolecular scientist Erica Katz, specialist in autoimmune response in vitiligo at University of Massachusetts Chan Medical School.