This article is a translation of the original interview
This past July 14th, the Spanish Congress of Deputies passed the Law of Democratic Memory, a law that declares the military uprising of July 18th 1936 and the subsequent dictatorship of Francisco Franco (1939-1975) to be illegal, and which intends to deal with their terrible legacy.
With Spain being one of the countries with the highest number disappearances due to political repression, one of the law's measures involves making the State directly responsible for the retrieval and identification of the thousands of bodies of those who went missing during the Civil War and dictatorship. The sad fate of many of these individuals has been abandonment in mass graves.
Close to 3,000 gravesites have been identified throughout Spanish territory, of which approximately 740 have seen intervention, and from which 9,000 bodies have been recovered to date.
In spite of the, until now, lukewarm State support, today we know all of this information thanks to the dedicated work carried out over the last two decades by specialists like Javier Iglesias-Bexiga (Madrid, Spain, 1981).
Javier is a biologist with a postgraduate degree in forensic anthropology. He is also a founding member of ArqueoAntro, an interdisciplinary team of archaeologists, anthropologists, restorers, forensic pathologists, historians, and documentalists whose aim is to recover, preserve and disseminate Spanish historical memory, particularly the memory of the victims of the Civil War and the Francoist repression that followed.
SciGlam: Could you tell us how it was that a biologist, who in the popular imagination is often portrayed as a member of the objective caste of scientists, ended up getting involved in something as overloaded with subjectivity as the so-called "recovery of historical memory"?
Javier Iglesias-Bexiga: In my personal case, the story begins perhaps a little before the start of my own biology degree. I first acquired an interest in the history of Spain thanks to a teacher in high school who taught us how to enjoy the subject…
Let's just say I didn't have a very clear idea of what I wanted to study. In the end I chose biology, which attracted me much more, but an interest in history always stayed with me. My biology degree was wonderful, I enjoyed it a lot. In fact, one of the most complicated things that I faced was discarding the branches and subfields of biology that were less important for me, but still attracted me. In addition, the study plan at the university where I studied (Autonomous University of Madrid) gave you the opportunity to take a series of routes that, in my case, lead to physical anthropology.
There was a key moment during my studies: a colleague of mine was going to do the final research project of her Bachelor's degree on the study of a mass grave exhumed in the province of Burgos. I was lured in by the project, and I was invited to the presentation of the archaeologists who did the excavation. The truth is that it really caught my attention. First, because of the mere existence of mass graves in Spain, something I was unaware of at the time. Second, because of the laboratory work involved in identifying the remains of the victims.
I wouldn't be lying if I said that for several months I accompanied my colleague almost every afternoon to see how she worked. I did not touch a single bone, I only watched and learned. It was like that until, one day, the professor who was directing her project asked me if I was going to do something similar, and if I wanted to ask him to direct the final research project of my own degree. In the end, my project had nothing to do with historical memory—it was the study of some children buried in a medieval church in Madrid—but from then on, I got fully involved.
I did my Master's degree in physical anthropology at three universities in Madrid. When I finished it, I started looking for a Ph.D. dissertation. It was a complex time for academia in Spain because the Bologna Plan had just come into effect, which was based on the idea of degree equivalency between European countries. Moreover, scholarships were limited; it was quite difficult to get one.
In the end, I did manage to get enrolled in a Ph.D. program at the School of Legal Medicine of the Faculty of Medicine at the Complutense University of Madrid, where I specialized in another, different but closely related subject: taphonomy (subdiscipline of paleontology related to the processes of fossilization). Well, that is my academic background. Right now, I am an Honorary Professor of a subject in the social anthropology program at the Autonomous University of Madrid called "forensic anthropology and human rights."
Moreover, I made contact with a distinguished forensic doctor named Francisco Etxeberria. He, through a scientific society in the Basque Country, Sociedad de Ciencias Aranzadi, began the exhumations at the state level. He was the pioneer in doing so specifically for the recovery of historical memory; and I was lucky enough to work with him for many years, learning directly in the pits. In short, since 2008 I have not left historical memory.
¿How did ArqueoAntro come about?
ArqueoAntro was born ten years ago. I was asked by a somewhat "peculiar" association to intervene as a forensic anthropologist in an excavation, the first time I was going to get paid to do that kind of work. On that occasion, I joined a team of archaeologists from the province of Valencia. The excavation was a very complex project; we were searching for a group of soldiers guided by the oral testimony of a person who was a child during the Civil War. The fact is that the project did not go as well as we wanted since there were certain disagreements with the association's management and its working methods, but it helped us form a group.
Based on this experience, together with the connections I already had with the Complutense University of Madrid, we began to carry out new exhumations. Our first exhumation was a mass grave with no budget. At that time, the Right was in power through the Popular Party of Mariano Rajoy, and they would not give a single euro to fund this type of project. To overcome the lack of funds, we started a crowdfunding campaign and got just enough money for an excavation; unfortunately, we did not find the victims.
Shortly after, we were called to dig up a soldier on the Levante Front, near Valencia. This project came about because a looter found a buckle that led him to some bones, which scared him; he then told a friend who told another friend who told someone else until, finally, the information reached us, and we were able to intervene.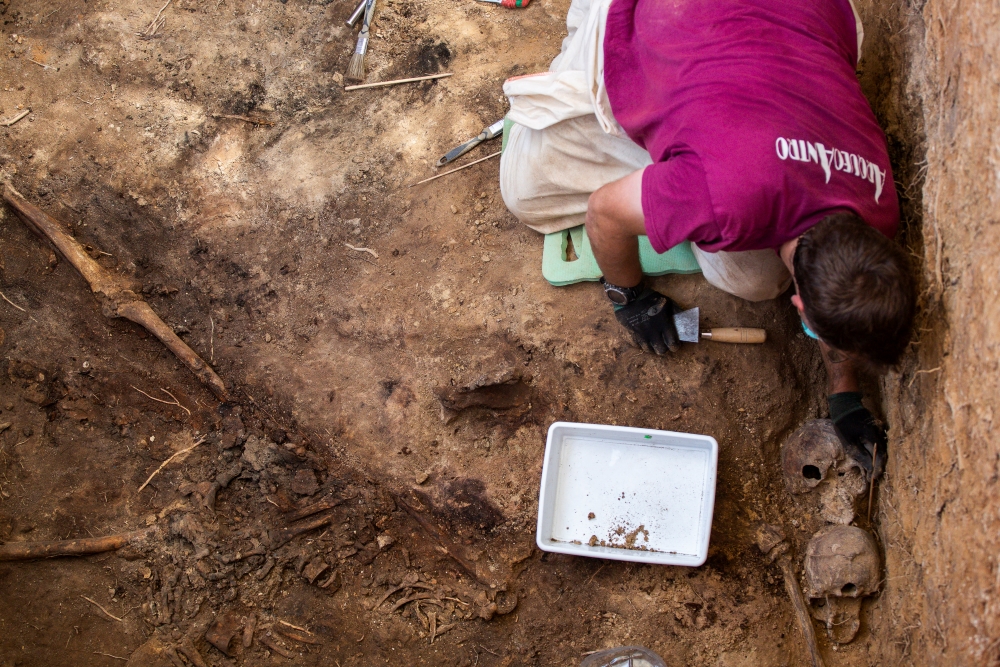 It also occurred to us that it would be a good idea to offer university-level courses in forensic anthropology and forensic archaeology, though open to anyone who was interested. In turn, these courses gave rise to an increase in the size of our squad. At the same time, other projects began to emerge, projects that had been left aside for political reasons, such as the search for the father of a guerrilla fighter from Valencia who had been murdered and buried in the civil cemetery of the city.
What came next was Paterna, which is a massive mass grave. The site has 2,237 recorded victims that are distributed over approximately 130 small pits. From there the real workload began.
Three years ago, thanks to the work we were able to carry out, many families were encouraged to search for their loved ones. Let's say that our work has been focused there, but we have moved throughout the country, always going where we are called to intervene.

Are there any ArqueoAntro projects that you would like to highlight?
Paterna, precisely. It is a very important project, and there are several teams involved in it. This site is particularly important because there are pits 2×2 meters in size with a depth of between 5 or 6 meters where we have come to find 100 to 150 victims, 176 victims being the largest amount found to date in a single pit, pit 114.
Another outstanding project is that of the soldiers of the Levante front. This geographical area was the site of many battles during the Civil War. Nearly 1,500 soldiers died and a lot of them, especially from the Republican side, were abandoned in the middle of the mountains. Sometime later, there were people who climbed the mountain and buried them the best they could.
Even later, many bones that were left exposed have since been collected or buried, but others remained there, on the surface. This is interesting because I have always said that these are the forgotten people of historical memory, the soldiers who, although not executed and condemned, were abandoned to their fate. Little by little, as we recover them, relatives are beginning to appear; they believe that they can recover their family members. It is a very difficult task, but we are trying to do it. If we don't, no one else will.

What do you do as a scientist at ArqueoAntro?
I am the head anthropologist as well as a founding member of the association. ArqueoAntro is an association of technicians; it is made up of archaeologists, anthropologists, forensic doctors, restorers and documentalists. We also collaborate with different specialists as needed. It's the minimum we can do when it comes to carrying out exhumations in relation to human right violations—since the State has abandoned us a little bit. Although, I have to concede that lately the State is making a lot of efforts to solve the problem.
My main function and responsibility is the supervision of excavations in the field. Although, in recent years I've been dedicated above all to the anthropological study of the remains for the identification of the victims.
In the laboratory, we carry out the anthropological analysis of the skeleton, the determination of the biological profile, the study of the dentition, and the analysis of the pathologies and perimortem traumas that indicate the individualizing evidence and the cause of death of these people.

I currently run a small laboratory with 4 other colleagues, and we are training new researchers in the field. I am also directing two doctoral dissertations and several final bachelor and master's projects in biology and anthropology.

¿Por qué consideras que es importante recuperar, conservar y difundir la Why do you think it is important to recover, preserve and transmit the memory of the victims of political repression during the Civil War and the Franco regime?
Mainly because those who forget history are condemned to repeat it. We all have heard this phrase many times. I don't remember who said it for the first time, but my history teacher taught us the phrase in high school and it left its mark on me.
I really believe that in Spain Francoism is not over, even if 47 years have passed since Francisco Franco died. He left everything very tied up; we can see that in the Spanish justice system, which does not judge the human right violations committed by his regime as crimes. There is an impediment from the prosecution preventing legal action from being carried out, alleging that these are expired crimes. You can see how there are Far-right and clearly pro-Franco parties that have reached the Spanish parliament.
[This recovery effort] is something that is vital for me today. It is vital for democracy, and it is vital to advance human rights. If we let fascism and Francoism continue to roam free as before, we will take a very large step back in terms of rights. The exhumation of mass graves is important precisely because it reveals what has been hidden for so long by the winners.
The exhumation of mass graves is important because it reveals what has been hidden for so long by the winners.

How is the experience of working in a mass grave and dealing with relatives or acquaintances of the victims? Could you mention a case that has impacted you in a particular manner?
In general, the experience is very enriching, especially working with the victims' families. It hurts when you do not achieve the objectives, which, after all, are the identification of murdered people. Bu our work allows us to meet many people who are very grateful, because often families do not know what to do when it comes to starting a project like this.
Depending on the administration, there are times when budgets are closed and we are not able to complete the project correctly. Like, for example, when the search and excavation become complicated and it takes more time. At other times, the budget is very low and we have to make balances in order to meet the objectives. On some occasions, we have had to stop an exhumation and wait a few months to resume it because it was technically unfeasible to continue. In general, the team is aware of these difficulties and we do not stop helping families, whatever the cost.
About the cases, well, there are many and each case is special. In general, you could say that any victim was arrested, killed and buried; but the family drama behind it is brutal. Perhaps what strikes me the most is when you dig up and recover the remains of children or young people, aged 14 to 16, as has happened to us on the Levante Front with the entire "Quinta del Biberón" (the Levy of the Baby Bottle) and with all the kids who accompanied the soldiers. It is quite hard.
There is a case, in Arroyo de San Serván, near the city of Mérida, in Extremadura, where we had to recover the remains of a boy of approximately 14 years old who had some marbles in his pocket… What harm could that person have done? A person who was still playing marbles! Furthermore, I have to add how they tried to make them disappear: they poured gasoline and explosives on them to make a great bonfire, but since they did not manage to burn the bodies, in the end they buried them in the middle of an olive grove and they remained there. For me, this case is quite hard, but I can tell you that there are many cases like this.
Nietzsche wrote that it is impossible to live without forgetting. Do you have an answer to this and to those who consider that it is better not to "reopen old wounds"?
For those who say that it is better to not reopen old wounds, that it is better to leave the victims there, for those who insult us or threaten us—because we have had situations like that, for example, when we were looking for the remains of Federico García Lorca and his companions in death, we got to hear "I would shoot these guys" or a coward passed by in a car and called us "bastards" or "sons of bitches"—well, what I would say to those people is "what if it was your father or your mother? What if it was your brother or sister? Or your children? If you are capable of leaving them lying there like dogs in a ditch, I will stop talking because you would look like an absolute wretch to me. I think this is the best answer.
It is also true, as our colleague Alejandro Vila says, that our job is to make history. To open a mass grave is to exhume the history of events that occurred 80 years ago, a history that has been denied to us and that we are now interpreting; but well, we still have a lot of work to do.

Historical debates on the Spanish Civil War and the Franco regime, as well as the dispute over the "official" public memory, have reached levels never seen before in democratic Spain, which seems to give renewed validity to the phrase "the two Spains." Do you think about your work in political terms?
Without question. Francisco Etxeberria, whom I mention a lot because he is a professional who has given many of us the opportunity to dedicate ourselves to this work, says that, in matters of human rights, one must be objective, but not neutral. So, of course it's political.
I am from a generation that grew up in democracy but was never told in school what Francoism was or what it meant for more than half of the population in Spain. The fear prevailed; there was even a coup d'état in 1981 that shook all the work that had been done by many people who risked their lives to try to build a democracy. All this is related.
Very important things still need to be changed, such as the 1978 Amnesty Law, something that the new reform of the Democratic Memory Law does not do. This Amnesty Law was created to release anti-Francoist political prisoners, however it has been used to grant amnesty to anyone who committed a crime during Franco's regime and currently prevents, for example, the investigation of the mass graves that we are exhuming.
Above all, we must do a lot of political pedagogy and correctly analyze the electoral results that we have. It could happen that tomorrow a Right-wing party enters parliament, annuls absolutely everything we have done, nullifies the law, and we return to zero. There are political interests behind it; there are still Francoist families in the government or in parliament.

Now that you've mentioned it, what is your opinion on the newly passed Law of Democratic Memory, which replaces the 2007 Law of Historical Memory?
In my opinion, it is a law that has taken a long time to approve. It generated a lot of controversy between the leftist parties themselves and between the relatives of the victims of Francoism. Like I mentioned, the repeal of the Law of Amnesty, one of the law's strong points, has been left out; many of us had hoped that it would be achieved. A repeal would be necessary to allow for judicial investigation into the crimes that were committed directly after the Civil War to take place. However, the government of the Socialist party didn't want to include it, which leaves us in a strange situation for the democratic advancement of this country.
This "Full Stop Law" allows the State to not fully deal with unearthing the mass graves. It's true that much progress has been made but, in the end, the issue of the State's participation in matters of exhumation has been limited to economic financing based on subsidies to associations and technical teams. Greater support would be necessary, including providing laboratories and personnel from other institutions.
I think that, like with all laws, its application will provoke change—surely for the better—and allow us to advance in matters of human rights in the future. Still, there is much work to be done.
Working with the families is perhaps the most interesting thing, talking with the few sons and daughters who are still alive, who tell you how they have survived the barbarity they suffered.
What is the most valuable lesson you have learned as a scientist from your involvement in the recovery of the memory of the victims of the Civil War and the Francoist repression?
I would highlight the ability to survive and recover from each problem we have faced in carrying out our work over the years. It seems incredible, but it is true that every time we try to carry out a project there is a problem. And if there is no problem at the beginning, it comes later mainly due to a bureaucratic issue. It depends on the bureaucrat in front of you and who manages the aid or the institutional work, but it is complicated.
It is also difficult to find a place in the public university to carry out the studies, as it is complicated to apply for a subsidy and to obtain all the legal permissions. I mean, it could be as simple as the implementation of a law that says that we can temporarily expropriate the land, and then the team can enter, exhume the remains, take them to the site, study them, identify them, and turn them over. All of this would be a relatively simple procedure. But there are times when it is very difficult.
In general, working with the families is perhaps the most interesting thing, talking with the few sons and daughters who are still alive, who tell you how they have survived the barbarity they suffered.
What are the projects of Javier Iglesias-Bexiga and ArqueoAntro for the immediate future?
Right now, for the immediate future, we plan to focus on studying the more than 300 bodies that we have recovered in the past few months, which is an enormous task. We also plan to start several campaigns for the recovery of the bodies of the soldiers abandoned in the trenches. But we are aware that there is a lot of work that we have right now and we hope that it lasts, because it may be that we change government and we have to go look for work in another field.